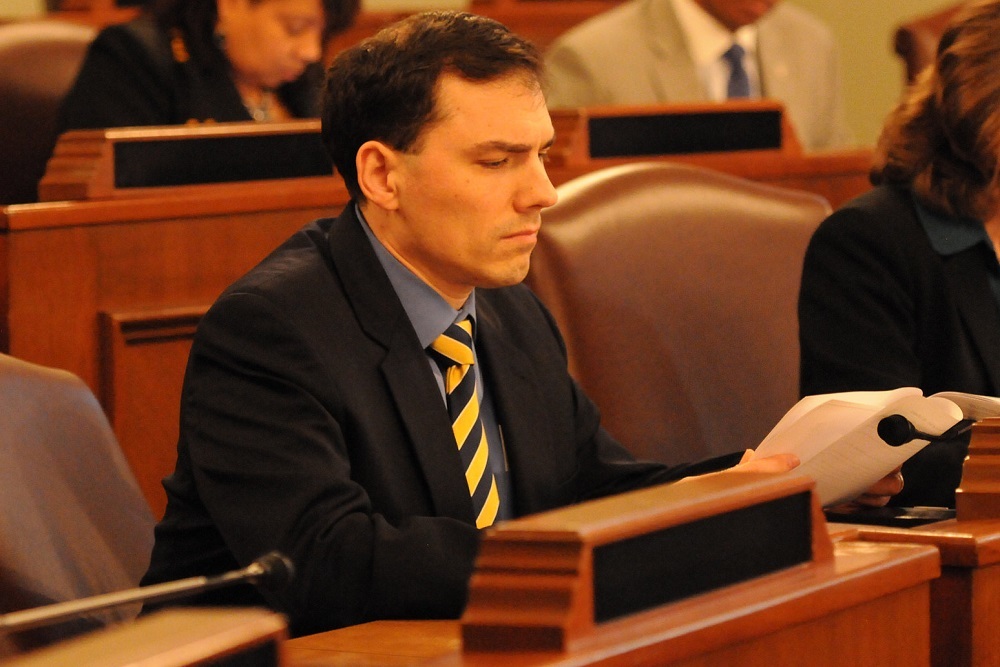 Illinois State House Rep. Tom Morrison (R- Palatine) on the House floor | morrison4staterep.com
Illinois state Rep. Tom Morrison (R-Palatine) is literally calling on voters to be the change many of them insist they desperately seek in government.
"We need citizens of good character, courage, resolve and wisdom to step up, run for these state and local level positions and/or help others who will," Morrison told the North Cook News. "It won't be easy, but past generations of Illinoisans and Americans have faced daunting odds and difficult circumstances before and prevailed."
Morrison points to a new WalletHub survey that finds for the third straight year Illinois is home to the second-highest property taxes in the country, behind only New Jersey, as another example of just how out-of-control things have become in Springfield.
As part of their study, researchers detailed how taxes on a home valued at $205,000 in Illinois are almost three times higher ($4,700) than they are for the same priced home in nearby Kentucky or Indiana ($1,760).
"The study reaffirms what I've been hearing from my constituents—the property taxes in Illinois have made the state so expensive for homeowners, and renters, too, because landlords have to pass along their commercial taxes to them via increasing rent," Morrison added. "The state needs more residents and businesses to add to the tax rolls in addition to more efficient state and local government to get this under control."
Morrison argues part of the problem is all the excessive units of government in the state, which ultimately cost administrative costs to rise and the taxes on people across the state to rise.
"The state needs to lift unfunded mandates on its local units of government," he added. "These are laws that make government contracts more expensive. Who ultimately pays for that? Taxpayers, of course."
Morrison said he would also like to see lawmakers lift most of the mandates placed on businesses, which he argues only hampers things and makes the state less attractive in more ways than one.
"When an Illinois business closes or moves, that vacant property becomes far less valuable and its property tax bill drops," he said. "The other properties in that jurisdiction—both residential and commercial—then have to make up the revenue shortfall. What you get is a spiral of higher taxes on those shouldering a heavy burden of expensive government."