Evanston Township High School District 202 issued the following announcement on Dec. 6.
On Sunday, December 15, more than 300 student musicians will celebrate the season at the Evanston Township High School (ETHS) Holiday Music Festival beginning at 3:00pm in the auditorium. While the concert is free and open to the public, donations will be accepted to support the ETHS music scholarship program that helps provide private music lessons to students who may not otherwise have the opportunity.'
Two orchestras (String Orchestra and Symphony Orchestra); three bands (Symphonic Band, Freshman Concert Band, and Wind Symphony); and several choral groups (ETHS Concert Choir, Chorale, Vocal Jazz, Dazzling Dames, and Advanced Vocal Ensemble) will perform contemporary and classical holiday pieces.
ETHS is located at 1600 Dodge Ave. Accessible seating is available in the auditorium. Parking is recommended in the lot directly across from the auditorium entrance on Dodge Ave. More information about ETHS Fine Arts is available online, and performance listings can be found on the Performing Arts webpage.
Original source can be found here.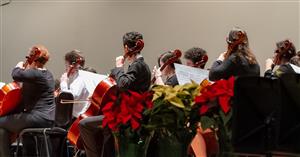 Source: Evanston Township High School District 202