Shutterstock
Evanston Township High School District 202 issued the following announcement on Jan. 31.
In January 2020, Evanston Township High School was selected as a German American Partnership Program (GAPP) School of Distinction, recognizing the school's engagement and best practices that facilitate youth exchanges. ETHS is among a select group of schools nationwide to receive the award.
The ETHS German Exchange Program has partnered with GAPP for many years, utilizing awarded scholarship money for ETHS exchange students to visit its partner school in Germany.
GAPP is part of Germany's foreign cultural and education policy. The program is jointly administered by the Standing Conference of Ministers of Education and Cultural Affairs of the States of the Federal Republic of Germany, Goethe-Institut New York, and GAPP, Inc. To learn more, visit https://www.goethe.de/ins/us/en/spr/eng/gpp.html.
Original source can be found here.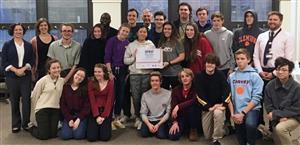 Source: Evanston Township High School District 202