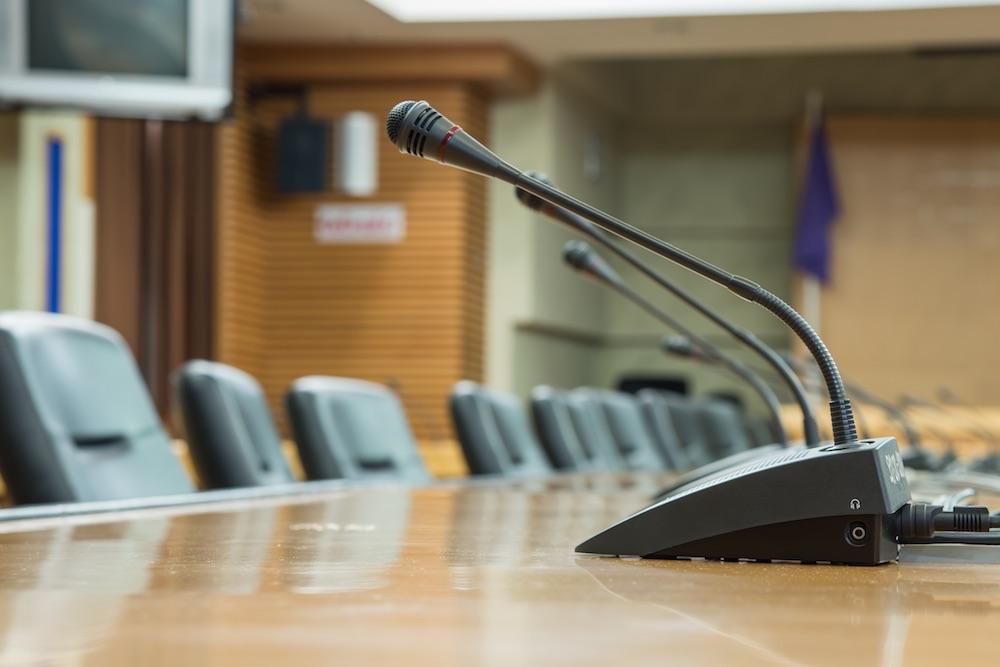 City of Prospect Heights City Council met Nov. 25.
Here is the agenda provided by the council:
1. CALL TO ORDER
2. ROLL CALL FOR QUORUM
3. PLEDGE OF ALLEGIANCE – Led by Girl Scouts Troop 43062
4. INVOCATION – Led by Mayor Helmer
5. APPROVAL OF MINUTES
A. November 11, 2019 Regular City Council Workshop Minutes
6. PRESENTATIONS
A. Recognition Ceremony for Girl Scouts Troop 43062 and Their Bronze Award Project
B. Presentation and Request for Council Approval of 2020-2021 City Vehicle Sticker Design
C. Meet and Greet-Elsa Escobedo and Mario Martinez, Owners of Bread and Butter Café, Soon to Open at 1279 N. Rand, Prospect Plaza
D. Presentation of Additional Information to the City Council Regarding Lexington Homes Proposed Muir Park Area Development, 1001 Oak Avenue, and Tax Increment financing Usage
7. APPOINTMENTS/CONFIRMATIONS AND PROCLAMATIONS
A. Appointment of City Clerk Joanna Prisiajniouk as the City Representative to the Greater Wheeling Chamber of Commerce
8. PUBLIC COMMENT (Agenda Matters)
9. MAYOR HELMER'S ASSIGNED REPORTS
A. City Clerk Joanna Prisiajniouk - No Report Assigned
B. City Treasurer Richard Tibbits - No Report Assigned
C. Alderman Michelle Cameron - No Report Assigned
D. Alderman Kathleen Quinn - No Report Assigned
E. Alderman Wendy Morgan-Adams - No Report Assigned
F. Alderman Patrick Ludvigsen - No Report Assigned
G. Alderman Matthew Dolick - No Report Assigned
H. Finance Director Michael DuCharme - No Report Assigned
I. Building and Economic Development Director Dan Peterson - No Report Assigned
J. Assistant City Administrator Peter Falcone - No Report Assigned
K. Director of Public Works Mark Roscoe - No Report Assigned
L. City Administrator Wade - Plaza Drive Status Report
M. Mayor Helmer - Comments
10. STAFF, ELECTED OFFICIALS, and COMMISSION REPORTS
A. Chicago Executive Airport Report Presented by Director Scott Saewert
B. October Treasurer's Report Presented by Finance Director Michael DuCharme
11. CONSENT AGENDA - All items listed on the Consent Agenda are considered to be routine by the City Council and will be enacted by one motion. There will be no separate discussion of these items unless a Council member or citizen so requests, in which event the item will be removed from the general order of business and considered after all other Agenda items.
A. R-19-52 Staff Memo and Resolution Approving a Renewal Contract with Alliant/Mesirow Financial for Property, Casualty, Worker Compensation, and Cyber Liability Insurance for the Year Beginning December 1, 2019 through November 30, 2020
B. Approval of 2020 City Council Meeting Calendar
C. R-19-53 Staff Memo and Resolution Authorizing Use of Motor Fuel Tax Funds, $268,100, for Schoenbeck Road Sidewalk Improvement, Marion Street to Camp McDonald Road
12. OLD BUSINESS
13. NEW BUSINESS
A. O-19-35 An Ordinance for the Levy and Assessment of 2019 Taxes for the Fiscal Year Beginning May 1, 2019 and ending April 30, 2020 in and for the City of Prospect Heights Police Pension Fund (First Reading)
B. O-19-36 An Ordinance for the Levy and Assessment of 2019 Taxes for the Fiscal Year Beginning May 1, 2019 and ending April 30, 2020 in and for the City of Prospect Heights Special Service Area Number One (First Reading)
C. O-19-37 An Ordinance for the Levy and Assessment of 2019 Taxes for the Fiscal Year Beginning May 1, 2019 and ending April 30, 2020 in and for the City of Prospect Heights Special Service Area Number Two (First Reading)
D. O-19-38 An Ordinance for the Levy and Assessment of 2019 Taxes for the Fiscal Year Beginning May 1, 2019 and ending April 30, 2020 in and for the City of Prospect Heights Special Service Area Number Three (First Reading)
E. O-19-39 An Ordinance for the Levy and Assessment of 2019 Taxes for the Fiscal Year Beginning May 1, 2019 and ending April 30, 2020 in and for the City of Prospect Heights Special Service Area Number Four (First Reading)
F. O-19-40 An Ordinance for the Levy and Assessment of 2019 Taxes for the Fiscal Year Beginning May 1, 2019 and ending April 30, 2020 in and for the City of Prospect Heights Special Service Area Number Five (First Reading)
G. O-19-41 An Ordinance for the Levy and Assessment of 2019 Taxes for the Fiscal Year Beginning May 1, 2019 and ending April 30, 2020 in and for the City of Prospect Heights Special Service Area Number Eight (First Reading)
H. O-19-42 An Ordinance Amending Chapter 1 (Title, Intent and Purpose), Chapter 3 (General Provisions), Chapter 7 (Business Districts) of Title 5 (Zoning) of the City Code Pertaining to Adult-use Cannabis (First Reading)
14. DISCUSSION/SELECTION OF TOPICS FOR UPCOMING WORKSHOP MEETING: A. Liquor License Code Review
B. 2020 Census
C. Staggered Elections
15. APPROVAL OF WARRANTS
A. Approval of Expenditures
General Fund $81,042.27
Motor Fuel Tax Fund $0.00
Palatine/Milwaukee Tax Increment Financing District $0.00
Tourism District $1,256.16
Development Fund $0.00
Drug Enforcement Agency Fund $584.16
Solid Waste Fund $0.00
Special Service Area #1 $0.00
Special Service Area #2 $0.00
Special Service Area #3 $0.00
Special Service Area #4 $0.00
Special Service Area #5 $0.00
Special Service Area #8 – Levee Wall #37 $0.00
Special Service Area-Constr #6 (Water Main) $0.00
Special Service Area- Debt #6 $0.00
Capital Improvements
$11,700.00
Palatine Road Tax Increment Financing District $0.00
Road Construction $0.00
Road Construction Debt $0.00
Water Fund $11,700.00
Parking Fund $0.00
Sanitary Sewer Fund $3,910.11
Road/Building Bond Escrow $7,801.00
TOTAL $107,727.71
Wire Payments
11/22/2019 PAYROLL POSTING $167,891.31
11/13/2019 POLICE PENSION PAYMENTS $167,891.31
TOTAL WARRANT 358,413.57
16. PUBLIC COMMENT (Non-Agenda Matters)
17. EXECUTIVE SESSION
18. ACTION ON EXECUTIVE SESSION ITEMS, IF REQUIRED
19. ADJOURNMENT
https://www.prospect-heights.il.us/AgendaCenter/ViewFile/Agenda/_11252019-929