Evanston Township High School District 202 issued the following announcement on Nov. 1.
The Annual Visual Arts Exhibition and Open House, hosted by Evanston/Skokie School District 65 and ETHS District 202, will be held in the auditorium lobby on Wednesday, November 13 from 5:00 to 7:00pm at Evanston Township High School, located at 1600 Dodge Ave. The exhibition will display almost 500 works of art, in every medium, by young artists who attend Evanston public schools from kindergarten through 12th grade. The event is free and open to the public.
Each year a piece of literature is chosen as the inspiration for visual imagery. This year's selection is the poem "Respiration" by Jamaal May. As part of the art exhibition, an open house invites families and the general public to tour the ETHS visual art classrooms, see demonstrations by students, and explore their own inner artist by participating in a wide array of hands-on art activities.
For more information, contact the ETHS Fine Arts Office at 847-424-7130. The auditorium lobby is accessible. Parking is available in the lot across from the main entrance, off of Dodge Avenue, or in the lots behind the high school. Parking is also available along Dodge Avenue according to posted City of Evanston signs.
Original source can be found here.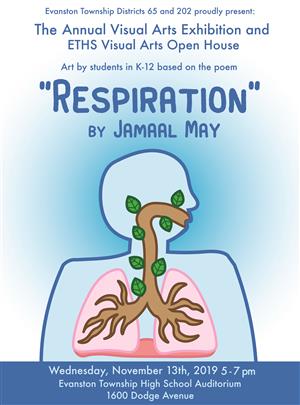 Source: Evanston Township High School District 202