Evanston Township High School District 202 issued the following announcement on Oct. 25.
A new mural entitled "Fluent Foundations" is now on display in downtown Evanston at the Grove Street Metra underpass. Evanston Township High School students, including Mayerli Collantes Cook, Ailsa Caughran, Caroline Roche, and Saige Severin worked closely with Chicago muralist Molly Zakrajsek, along with students from Beacon Academy and Roycemore School, to design and paint the piece.
"Fluent Foundations" was created to exhibit a sense of harmony, energy, and connectivity. According to Zakrajsek, who led the mural project, "Art has the ability to plant seeds of optimism deep into the human psyche."
The mural was celebrated by the community with a ribbon-cutting ceremony on October 19 and is one of many pieces curated by Art Encounter, a non-profit organization responsible for the Evanston Mural Arts Program.
Original source can be found here.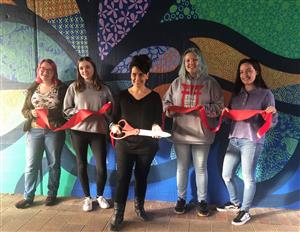 Source: Evanston Township High School District 202