Evanston Township High School District 202 issued the following announcement on Oct. 17.
The Evanston Township High School Speech and Debate team is thriving in local and regional tournaments for the 2019-20 school year. Current competition results include:
Senior Henry Eberhart qualified to the Tournament of Champions in Lincoln-Douglas debate. Eberhart is the first ETHS debater to qualify in the Lincoln-Douglas debate since 2015.
Junior Quinn Hughes has advanced to the quarterfinals at the National Season Opener and Mid-America Cup.
Sophomore Harrison Horrell was named the champion of the first North Shore Congressional Debate scrimmage at Niles West High School.
In addition to these successes, the ETHS Speech and Debate team is expanding its Spanish-language debate team, according to ETHS debate coach Jeff Hannan.
For more information about the ETHS Speech and Debate team meetings and competitions, contact Jeff Hannan at unaanaw@rguf.x12.vy.hf.
Original source can be found here.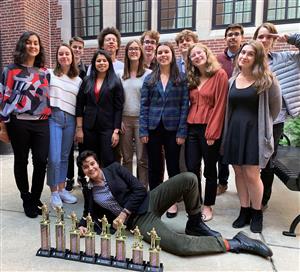 Source: Evanston Township High School District 202