A bill to form a female-based council to provide research support and public policy on issues affecting females had three GOP lawmakers questioning how such an assembly deals with abortion law and gender definition and equality.
HB5544, sponsored by Rep. Anna Moeller (D-Elgin), creates the Illinois Council on Women and Girls Act, which would be made up of 21 members appointed by the governor and four house leaders.
Though Moeller said the initiative, developed by a group of young female activists last year, had no opposition, she was wrong. Rep. Peter Breen (R-Lombard) brought up the bill text, questioning language that the counsel would advise the governor and General Assembly on policy that would promote increased access to reproductive health care.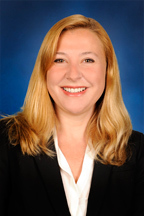 Rep. Anna Moeller (D-Elgin)
"In my world, when I see that term, I immediately think it means abortion," Breen said.
Moeller said reproductive health care issues are contemplated by the council and there is no predetermined set policy, but Breen pointed out reproductive health care includes abortion, so the council is predisposed to consider increasing access to abortion.
"That is not necessarily true, reproductive health care also includes contraceptives and education, it is not prescriptive, it is general," Moeller said.
It is prescriptive in Illinois, where taxpayers are being forced to fund abortion, according to Breen.
"It is very difficult to support a measure like this without some assurance they are not going to be attempting to support abortion," Breen said.
Rep. Thomas Morrison (R-Palatine) questioned amendments to the bill, asking Moeller why her text included the description of a female.
"Is this the first time in state statue that we are defining what a woman is or who women are?" Morrison asked.
After being told no, Morrison asked Moeller to cite other statutes that state gender definition, but she could not, which is when he pointed out her bill's text took the meaning a bit too far.
"Woman or women means all persons of the female gender including both cisgender and transgender persons," Morrison read. "Transgender describes persons whose gender identity is different then the gender they were assigned at birth."
Reading on, Morrison said he is concerned that lawmakers should not state in statue someone's subjective feelings on their gender.
Speaking of sex, what about the male gender, asked Rep. Jeanne Ives (R-Wheaton). She said a state created group should not be based on sex segregation and cited major media to prove her point. The Atlantic shows boys dominate in high school drop outs and learning disabilities, and the Washington Post revealed boys in America continue to fall behind girls in academics, according to Ives.
Ives questioned the bill's legality as far as the Equal Rights Amendment is concerned and noted as a mother o boys and a girl, the notion to form a group for one gender is ridiculous.
"I think we should emphasize both of our children's sexes, both men and women as well," Ives said.
HB5544 passed 64-24 and moved to the Senate.