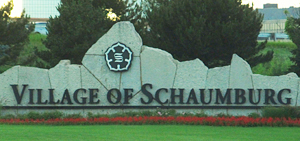 Schaumburg taxpayers will spend nearly as much on pensions of retired employees in 2016 as they will repairing and maintaining village streets.
That's according to the village annual budget proposal, which will be presented to the Schaumburg Village Board today. The village fiscal year begins May 1.
If the budget proposal is accepted, nearly 12 percent of Schaumburg's village budget in 2016-17 would go to shore up its underfunded fire and police pension systems -- or $11.8 million.
Schaumburg would spend $13.5 million on public works and $13.4 million on general government, according to the proposal.
According to the Illinois Department of Insurance (DOI) biennial report released last fall, Schaumburg has nearly $110 million in unfunded fire and police pensions.
As of April 30, 2014, Schaumburg's Police Pension Fund had a funding deficit of $64 million; the Schaumburg Firefighters Pension Fund's deficit was $55.5 million.
These deficits are the result of soaring police and fire salaries, and a history of low pension contributions by police and fire employees, who over their careers, typically save less than 3 percent of what they will be paid out in retirement.
According to the DOI, the annual salary (including taxpayer-funded pension contribution) of a Schaumburg police officer rose 50 percent over the last decade, from $87,486 in 2004 to $130,857 in 2014.
Schaumburg village officials recognize the situation is unsustainable.
"It is important to recognize that Village resources are challenged to sustain a pension system that allows employees to retire at age 50 and receive up to 75% of their final salary as a starting pension, along with automatic increases of 3% compounded annually," they wrote in their 2016-17 budget proposal.
"The Village's financial position is adversely impacted by various legislative policies established by the State of Illinois," which forces municipalities to use defined benefit pension plans.