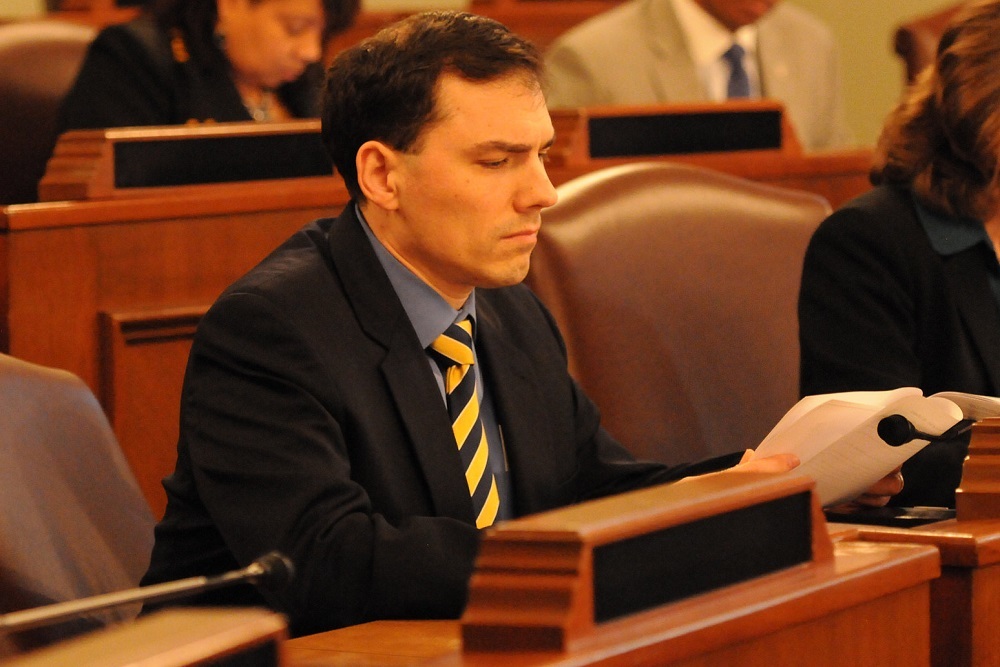 Illinois state Rep. Tom Morrison (R- Palatine) on the House floor | morrison4staterep.com
Illinois state Rep. Tom Morrison (R-Palatine) is willing to go to any lengths to ensure that the people of his 54th District feel protected.
The veteran lawmaker recently hosted a free self-defense class for women in his community. Led by Jan and John Wood of J.P. Wood Martial Arts America, the daylong event included training in self-defense, distraction and awareness tactics for females in the district 13 years and older.
"The event had a great turnout and there was a full room of women eager to learn what to hit, how to release holds, ways to be aware and what situations to avoid," Morrison said in a press release. "After seeing the success of this workshop, I hope to hold more in the near future."

Illinois state Rep. Amy Grant (R-Wheaton)
The events are nothing new in the district, as Morrison has hosted similar self-defense workshops over the years.
Morrison was recently installed to the state's new 15-member bipartisan Property Tax Relief Task Force, where the goal is weeding out the root causes of the state's soaring property tax rates and formulating legislative solutions that Springfield lawmakers can easily put into action.
"Illinois residents are desperate for property tax relief and this task force gives us an opportunity to provide that relief through real reforms," Morrison told North Cook News. "I am eager to get to work to provide the solutions that our taxpayers need. This task force is the best step forward to working through one of the biggest roadblocks to our state's success."
Ultimately, the task force will report its findings to Gov. J.B. Pritzker by year's end. Other Republican lawmakers on the task force include Reps. Amy Grant (R-Wheaton), Dan Ugaste (R-Geneva), Tim Butler (R-Springfield) and Mike Murphy (R-Springfield).
Morrison's 54th District includes portions of Arlington Heights, Barrington, Hoffman Estates, Inverness, Palatine, Rolling Meadows and South Barrington.